INSTITUTE OF PART-TIME PROGRAMMES ADEKUNLE AJASIN UNIVERSITY AKUNGBA-AKOKO, ONDO STATE ADVERTISEMENT FOR THE 2022/2023 ACADEMIC SESSION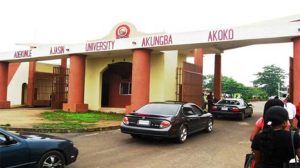 Applications are invited from suitably qualified candidates for admission into the Institute of Part-time Programmes, Adekunle Ajasin University, Akungba-Akoko, Ondo State for the 2022/2023 Academic Session.
AAUA Part-Time Programmes Study Centres
There are two study centers: Akure and Akungba.
The Akure Study Centre is St. Thomas Aquinas College, Akure, Ondo State.
The Akungba Study Centre is the Campus of Adekunle Ajasin University, Akungba-Akoko, Ondo State.
Background of AAUA Part-Time Programmes
We have low and affordable school fees with flexible payment options.
Students can check their results online using their mobile phones.
Our programmes are fast because we run three semesters in a year.
Details of the programmes are presented below.
1. Professional Master's Programmes (Two Academic Sessions)
Master's in Security Psychology (MSP)
Master's in Business Administration (MBA)
Master's in Managerial Psychology (MMP)
Master's in Public Administration (MPA)
2. Postgraduate Diploma Programmes (One Academic Session)
Postgraduate Programme in Financial Management (PGDFM)
Postgraduate Programme in Public Administration (PGDPA)
Postgraduate Programme in Computer Science (PGDCS)
3. Undergraduate Programmes (Five Academic Sessions)
B.Sc. Accounting
B.Sc. Banking and Finance
B.Sc. Business Administration
B.Sc. Computer Science
B.Sc. Criminology and Security Studies
B.Sc. Economics
B.Sc. Geography and Planning Sciences
B.Sc. Public Administration
B.Sc. Pure and Applied Psychology
B.Sc. Sociology
B.A. English Studies
B.A. History and International Studies
B.A. Linguistics and Yoruba (Combined Honours)
B.A. Philosophy
4. Diploma Programmes (Two Academic Sessions)
Diploma in Business Administration
Diploma in Public Administration
Diploma in Computer Science
AAUA Part-Time Programmes Method of Application and Payment
Click on "Advertisement Documents" to download the full advertisement, which has the Admission Requirements and the Study Centres for each course. Please, read the Admission Requirements carefully and be sure that you have the admission requirements of the course before you apply. Please, consider the Study Centre, before you choose a course.
Click on "Apply Now" and click on "Create Account" to create account and commence the application process.
Login to your account using your username and password
Click on "Payment Method" and then click on "Pay Now" and select your desired programme (e.g. Master's, Postgraduate Diploma, Undergraduate, or Diploma).
When you click on "Make Payment Now" you would be directed to PayTech, which is the Payment Gateway.
At the Payment Gateway, supply your MasterCard or Visa Card information.
Your Bank would automatically send a Token (a set of numbers) to you
Use the Token to authenticate and complete your payment.
After authenticating and completing your payment, you would be re-directed to http://www.iptp.aaua.edu.ng
Click on "Application Form", complete, and submit your application form online.
Click on "Finalize Application Form" and print your acknowledgement slip.
NOTE
Please, you do not need to bring your printed form to our office in Akungba. Short-listing would be done online.
All candidates offered admission would receive a text message and instructions on their phones. Applicants are advised to use their Whatsapp numbers.
APPLICATION FEES
Postgraduate (Master and Postgraduate Diploma) = N20,315 (including bank charges).
Undergraduate = N12,815 (including bank charges).
Diploma = N10, 315 (including bank charges).
FOR MORE INFORMATION
Contact Dr. Bayo Fasunwon PhD.Bolanle Ogungbamila (Director of the Institute of Part-time Programmes, AAUA) on 08034134614